North Dallas Air Duct Cleaning
Cleaning Ducts and Vents in North Texas For Over 15 Years
Servmold of Dallas provides comprehensive commercial and residential air duct inspection and air duct cleaning services in Dallas, Texas, and the surrounding areas.
We have state-of-the-art technology that helps us clean your vents efficiently and make sure there is no interruption in your day-to-day life. Each one of our technicians is knowledgeable and well trained to provide the best method to clean your ducts and vents and improve your air quality at a minimum time and affordable price.
Cleaning your HVAC vents and ductwork can help you save money on your electric bills and let your HVAC systems run very efficiently. All you have to do is contact us and we will make sure your air conditioner system will work like new.
Cleaning Air Ducts in Dallas Fort Worth and More
Here at Servmold of Dallas cleaning and restoration services, we offer a wide range of services to choose from. We provide air duct inspection, duct sealing, carpet cleaning, HVAC cleaning and dryer vent cleaning for your home and business. Our priority is your satisfaction and we strive to provide you with the best services
possible.
Quality Air Duct Cleaning You Deserve
When your cooling and heating system blowing hot and cold air in and out the vents gets a lot of dust and debris into the system and the air vents. You might feel that it's not that important to clean your vents but it can make a lot of difference.
The duct cleaning process will:
Increase airflow from your heating and air conditioning.
Vent cleaning reduces utility bills.
Let your air conditioning works more efficiently.
We here at Servmold of Dallas are very well aware of these things and we
have the cleaning process you need for clean air conditioning.
.
Commercial Air Duct Cleaning Dallas Professionals
Almost every commercial building has vents that provide fresh airflow throughout the workplace. Over time the heating and air conditioning ventilation system can become clogged with dust and dirt and as a result that your office will suffer from poor air quality. To ensure a clean and healthy working environment- a commercial air duct cleaning service is a must at least twice a year.
Getting a duct cleaning service regularly can save you money by reducing electricity
usage and increasing the efficiency of the HVAC systems. With our powerful vacuum and advanced tools, we can perfectly repair and maintenance your air ducts to ensure that the HVAC system is proper and there are no interruptions!
We have an all-in-one solution of commercial air duct cleaning at Servmold of Dallas.
Our professional air duct cleaners are EPA registered and have over 15 years of experience in the cleaning and repair industry.
Dryer Vent Cleaning
Out of the wide array of services we offer, we also have dryer vent cleaning. Just like any other
vent, air ducts dryer vent needs to be cleaned from time to time. If not done properly it can lead to clogging which will block all the moisture inside the vent causing the dryer to take up more time for every load it has. This in turn will lead to a lot of energy utilization. Clogged dryer vents are also huge fire hazards.
Based on statistics, Dryer and Washing Machines caused a fire in 13,820 homes between 2014-2018 alone. (reference link). Here at servmold of Dallas, we understand how important it is that your dryer vent is clean. We provide exceptional cleaning services, that ensure thorough cleaning of your dryer vent.
Air Duct Inspection
HVAC system cleaning is needed to ensure the safety and efficient operation of your duct systems, it is important that you regularly get your air duct checked by an expert.
We understand the importance of a clean HVAC system and our duct cleaning technicians work hard and use the latest technology to be able to remove dirt, dust mites, pet odor and all allergens and contaminants from your duct systems to improve indoor air quality in your home or business and provide you with one of the top-rated air duct cleaning service that you can find in Dallas and in North Texas.
Our team is experienced air duct cleaners who can solve any problem at hand. What's make us different is that we are  mold removal and remediation experts and that gives us the advantage to camera inspect the air ducts and on top of that to run a mold inspection to assess the level of buildup dust and mold bacteria and provide an estimate based on our assessment.
We provide comprehensive solutions to the problems and make sure that the efficiency of your air ducts is maintained. After making one call to our office we will be at your service and will ensure a thorough inspection of the HVAC unit and air vents of your premise and make sure we removing mold from ductwork as well.
Request Quote For YOUR AIR DUCT SYSTEM
Call Servmold, we are always ready to clean your air ducts!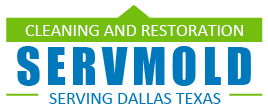 214-935-1415