Remove Mold From Your HVAC and Ducts Systems
Dallas HVAC and Air Duct Mold Removal
Remove and Prevent Spreading Harmful Mold Spores in Your Home or Business
Servemold of Dallas provides the best HVAC mold removal in Dallas. We are a family-owned company with over 15 years of experience in HVAC and air duct mold removal.
We use the latest technology and equipment when removing mold around your ventilation systems. Our company works with all insurance companies to ensure you will get the cleaning and remediation process with minimum work from your side. We offer HVAC and air duct mold removal services with a 100% satisfaction guarantee.
Mold spores are attracted to your home due to humidity in your home and heating and cooling system which will decrease your indoor air quality and eventually can cause your HVAC system failing, because of mold buildup.
Signs of Mold in Air Ducts
As time pass by, you may begin to notice signs of wear and tear within and around your central air conditioning system. Well, some of these signs could be a clear indication of mold infestation. That's why you need to stay alert and look for indicators that will let you know how to identify black mold in your building. Some of the signs of mold growth around your air duct include the following;
Signs of irritation on the nose, eyes, and throat, especially when the HVAC system is turned on
Too much headache while inside the room, but it eases when you step out
Feeling of dizziness, fatigue, and nausea while in areas with a mold problem
Signs of mold and mildew growing around air duct, drip pans, and within intake vents Whenever you start experiencing running nose, watering eyes, rashes, and other allergic reactions
When you begin noticing musty or string mildew-like smell through your room and other surrounding rooms may indicate a breeding ground for mold sores
Servmold of Dallas Your Air Duct Mold Removal Company in North Texas
Long-Standing Experience
For 15 years, we have been offering HVAC and Air Duct Mold Removal services in North Texas. Our experience dealing with the HVAC system and air duct cleaning is unrivaled with other mold removal companies. We perfectly understand all the different HVAC and ductwork systems and are equipped with the tools and skills required to ensure successful mold removal around these areas.
Bonded and Insured
Servemold of Dallas is bonded and insured, so there are no risk of long your heating and cooling systems.
Free Estimates
We offer free estimates to our customers, and we'll always respond to you within 24 hours.  We have a team of trained field operators who will ensure professional service delivery and quality of work using our high-end mold removal tools.
Crucial Things to Do if You Have Mold in Your AC Ducts
One significant role of the ventilation system in a commercial building or any room is to improve indoor air quality. However, this may turn into a nightmare when mold spores begin to propagate around it. Usually, mold and mildew grow on the ceiling and behind walls, which is always easy to notice.
However, when you have a mold problem around your heating and cooling systems, it will pose a health risk to anyone that uses the building. That's why you should take the necessary steps to prevent mold spores from spreading in your building. Here are steps you should take when you notice mold in your air conditioning systems.
Stop Heating Ventilation and Cooling Systems (HVAC)
When you suspect that you have mold in your room, it's vital to stop HVAC from running. It's a move that will prevent mold spores from spreading to other areas within the room or building.
Get Mold and Mildew Test
In many cases, people confuse mold with dust or dirt particles, and they allocate much time and resources to the wrong course. It would help if you also understood that the signs alone aren't enough to confirm the presence of mold in your HVAC systems. Therefore, take your time to locate the best and certified mold inspector in Dallas.
Examine The Type of Air Duct System
You should know about the type of material that makes up your ductwork which can be flex duct, metal sheets, or fiberglass. Generally, bare sheet metal air ducts are more accessible and more affordable than Fiberglas air duct types.
Hire Mold Remediation Company
It's time-consuming, challenging, and dangerous to remove mold from the ventilation system by yourself. Usually, it's advisable to use a professional HVAC and Air Duct Mold Removal company because mold removal requires the use of specific procedures, tools, and cleaners. The mold spores are very stubborn, and they can crawl back to your home if you don't use a professional mold removal specialist Dallas tx technician.
Before You Hire, Know The Air Duct Cleaning Company
Make sure the company you hire:
Provide air duct cleaning services with the mold remediation process
Member of National Air Duct Cleaning Association (Find more about NADCA here)
EPA approved
License and Insured
National Air Duct Cleaning Association is a special body that regulates how air duct cleaning services are done.  Also, professional HVAC and air duct mold removal companies use Environmental Protection Agency-approved products. Therefore, look for a company that follows NADCA regulations and uses environmental mold removal processes and tools.
How to Prevent Mold in HVAC Systems
Home experiencing high humidity can use a dehumidifier to eliminate the breeding ground for mold spores.
Remove standing water and repair water leaks.
For easy HVAC maintenance, its components and drain pans should be in an easy-to-access position
Who To Call For Mold Removal?
Call Servmold, we are always ready for any type of mold project!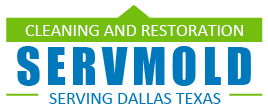 214-935-1415