Dallas Black Mold Removal Services
Commercial and Residential Mold Damage Restoration Services in Dallas Fort Worth
Servmold of Dallas is the leading black mold removal service provider in Dallas. Our team has over 15 years of experience in this field and to date, we have served plenty of  Dallas homes.
We are aware of the major challenges faced and the best possible mold removal solutions. Our team is sure to give you world-class mold remediation service in Dallas.
About Black Mold (Stachybotrys)
Black mold also known as Stachybotrys Mold is commonly known as the black mold. It is highly toxic in nature and can cause allergic reactions, respiratory problems, and neurological disorders as well. It is greenish or black in color. Black mold can be easily recognized with its soot-like or slimy texture.
Black Mold Removal Solution for your Home or Business
Servmold of Dallas has rich experience in serving Dallas County and the state of Texas residences with the best professional mold removal and knows Dallas mold very well. We have a team of experts with protective equipment who can professionally handle mold remediation Dallas projects without exposing anyone or pets within your home to these hazardous fungi.
Commercial Black Mold Removal
Do you suspect or see mold growth in your business place? Black mold, also known as Stachybotryschartarum, appears as blackish-green spots in many Dallas commercial buildings. Servmold of Dallas is here to rescue. We offer best-in-class commercial mold remediation services for commercial buildings. We have been remediating mold for more than 15 years now, we know exactly what to do when it comes to commercial mold cleanup.
Residential Black Mold – Stachybotrys Mold Removal
Looking for mold cleanup service for your home, Servmold of Dallas is everything to get rid of these toxic fungi. These toxic fungi are disastrous and working with professionals is the only way to remove them from your home altogether. Our team has undergone black mold removal training and is well equipped with all the safety measures while removing black mold from your home keeping the residents safe.
Reasons for Black Mold in Your Residence
When mold spores hitch kick on your clothes, air current, or pet fur, they will quickly get to your home. These mold damage household items too. Usually, spores don't survive in areas without enough water, they usually grow in areas like under the sink, you can see mold in bathroom corners, or any humid location.
If you have leaky pipes, the black mold will always find its way in easily. That's why you should remove the black mold before they get worse. Additionally, gypsum board, carpet, or drywall easily socks water, creating a conducive atmosphere for a black mold colony. In short, any kind of water damage can lead to mold growth.
Whether you need mold remediation at your residential or commercial premise you are sure to get the job done efficiently when you choose us.
Servmold of Dallas – Your Black Mold Removal Services Company For Any Project
We understand how dangerous this fungus can be when they invade your home. That's why we dedicate a team to respond whenever called upon. We make sure that you get the best mold remediation service when you avail of our service.
We specialize in removing all variants of mold
Mold is a dangerous fungus, which has numerous variants like mucor, black bread, aspergillus, penicillium, etc in any area. You might experience mold problems in your workplace or your home, Servmold of Dallas is all you need when it comes to home or business mold remediation service. We have been in the professional mold remediation business for years now and have considerable expertise in removing any variant of mold from any area.
How Dangerous is Black Mold For Your Health
Based on the CDC report, Black mold (Stachybotryschartarum) can worsen patients' health conditions, especially those with immune conditions and respiratory problems. As a result, it's known to worsen flu or cold-like symptoms like Wheezing, a Stuffy nose, eye, and skin irritation. However, too much exposure to black mold spores can also cause shortness of breath, nausea, and fever. Having black mold in your home can be harmful, research indicates the dangers of its toxic nature. It can make you sick, which can affect you emotionally and physically. Animals and pets can act differently to the black mold spores. That's why we advise consulting experts whenever they notice these symptoms in pets or people within the home.
Migraines, intense headache, or tiredness
Kidney or bladder discomfort
Impaired concentration (memory loss)
Mucous membrane irritation
Breathing problem
Is Black mold dangerous?
Well, black mold is hazardous to your health and your home in general. That's why you should seek black mold removal services in Dallas as soon as possible.
However, it would help if you understand that people tolerate allergens differently. Since black mold spores are among the allergens, failing to remove them in time may cause further health complications to those with asthma, immune suppression, or respiratory allergies.  Don't wait for the black mold symptoms to occur before you act, instead seek help from our experienced black mold removal company in Dallas to eliminate mold as soon as possible.
Is it safe to clean black mold yourself?
Black mold is toxic, it is dangerous to get in touch with black mold without protective equipment. The type of mold growth detected in your home can have many risks associated while getting in touch with it. Black mold spores can be hazardous, and removing them by yourself can risk your health.  When exposed to these fungi, these can cause other health problems such as sneezing, nausea, fever, shortness of breath, and many more. We recommend hiring a professional mold remediation service for black mold removal. We also provide a free mold assessment for your commercial property.
Tips for prevention of Black Mold growth
Maintain low humidity levels: Mold thrive in moist and humid environments, maintaining humidity levels in your premise can help prevent mold growth. Try to maintain humidity levels less than 50 percent at all times.
Cut of moisture source: Mold thrives easily in leaky pipe areas, previously flooded areas, or any moisturized areas. Once you avail of mold remediation services, the professionals will cut off the moisture source, repay leaking pipes or vents. You also need to keep a check, and immediately repair the leaking pipes, vents, and sinks. This will ensure low moisture in mold-prone areas and hence will prevent mold growth.
Improve ventilation: Make sure your home has proper ventilation all day long. It is a good way to dry up the moisturized areas and also decrease indoor carbon dioxide levels.
Who To Call For Mold Removal?
Call Servmold, we are always ready for any type of mold project!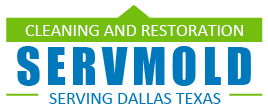 214-935-1415