Commercial Mold Remediation Services
Commercial Mold Remediation in Dallas
Cleaning and Restoration for Commercial Buildings
Servmold of Dallas has been the number one commercial mold remediation company in Dallas, Texas for many years now. We have a team of professionals with the right skill and experience necessary for identifying and analyzing the different types of mold within your commercial property.
When mold invades your office or store, you'll not only suffer from the physical damage caused, but these fungi can also release mold spores into the surrounding indoor air, which are known to be health hazards. Therefore, it will be smart to call for professional help.
You can always rely on us when it comes to commercial mold remediation, we will always handle mold issues professionally.
Restore Your Business Health Environment
If the mold in your commercial building has affected a smaller area, we use plastic to control the mold growth. After that, we cut around that plastic to get rid of the toxic mold spores. To remediate the whole mold problem, we'll use mold removal products approved by U.S. Environmental Protection Agency (EPA) Guidelines.
However, when we are dealing with a severe mold infestation, we have to remove damp drywall, then sand the wood, and finally replace the materials if necessary. Additionally, we repair floorboards, dispose of mold-infected carpets and reinstall new carpets.
As a result, well restore the look of your commercial space. Besides having trained professionals, we also have the best mold removal tools, and we use the following commercial mold remediation process.
Locate mold colony and the source of water behind it
Assess the level of mold damage on your office
Isolate and contain the black mold using negative air pressure or physical barrier
Capture, filter, and scrub the toxic mold spores
Use antifungal and antimicrobial treatment to remove mold
Dispose of mold-infested porous material
We clean, sanitize, and deodorize your belongings
Reconstruct and repair damaged surface to perfect your office
Protect Your Customers and Employees From Harmful and Poisoning Fungi
When there is a mold colony in your commercial property, the black mold spores are a threat to your customer's and employee's health. It's therefore essential to outsource the issue to commercial mold remediation service providers as soon as possible to safeguard the health of everyone within your commercial building. Servmold of the Dallas provides a professional mold removal services plan as well as immediate action.
The primary reason why working with us will be a smart decision is that we are informed and know where to look for when assessing the nature of mold damage. Additionally, we analyze the situation and develop an effective plan to prevent mold growth in your property. In case of repairs or reconstructions of areas damaged by mold, we will deploy our professional team on-site to ensure flawless commercial remediation. 
Providing Mold Remediation Services For All Types of Commercial Buildings
When you require the best mold remediation services in Dallas, we are the only company you can trust that has enough mold removal experience. Dealing with commercial properties can be challenging; that's why we insured our firm. Additionally, we have a license and are authorized to offer mold remediation services in Dallas, and it's surrounding.
Our professional team has undergone commercial mold remediation training with procedures and safety measures since mold spores are toxic fungus. We offer mold remediation services to the following types of commercial properties.
Schools and Commercial Buildings
In schools and commercial buildings, people come in and out, which means it can be dangerous in the black mold infestation. With the more significant number of people coming in and out of school or commercial properties, mold spores can easily attach to their clothes, increasing the chance of mold infestation. Inspection and mold removal will affect the lives of customers, workers, and students.
Multi-Units and Apartment Buildings
This is another sector where we've also excelled at ensuring all the apartments are kept safe and free from mold. Suppose you want your apartment to last longer without the need for frequent renovation. In that case, we can assess your multi-unit apartment, especially on the basements, bathroom, or any area exposed to moisture.  
Hospitals and Medical Centers
Maintaining a high level of hygiene is a must for Hospitals and Medical Centers. However, when mold grows in these facilities, it can worsen the health condition of doctors and patients. We have the necessary tools and workforce to offer mold remediation services in these kinds of settings.
Types of Mold Commonly Found in Commercial Buildings
There are various types of mold that can be found in commercial buildings in Dallas, Texas. They all have different levels of effect and appearance; which our professional team can help you identify when you invite us to your site. However, there are mainly five types of mold that are very common in commercial buildings, which we'll handle below.
Stachybotrys: in all commercial buildings in Dallas, Stachybotrys is the most distributive mold type. It's also referred to as black mold and creates a weird odor, and weakens your commercial building if not remediated in time.
Alternaria: these are the types of mold spore that propagate outdoors for their first life but later get carried into the commercial property by the dry summer winds
Cladosporium: well, this type of mold is also classified under toxic molds. When in an office or a store building, it can cause an asthma attack.
Aspergillus: it's a type of mold that is quite toxic and can cause serious health complications when inhaled. Most of the time, it usually propagates indoors.
Penicillium: when Penicillium infests your building, you'll notice a greenish or yellowish color on the affected surface. Inhaling Penicillium in a large amount can also be harmful to your health.
Causes of Mold in Commercial Buildings
Through open doors or windows, mold can quickly get into your office building. Additionally, mold spores easily attach to clothes, animal furs, suitcases, or items entered into your building. However, mold grows quickly in areas with suitable temperature ranges, food sources, and abundant moisture.
Industrial and commercial structures are usually constructed in an air-tight manner to improve insulation, but it prevents the building from natural air circulation. As a result, these buildings can have increased humidity, especially in the basements and under the sinks. On the other hand, water damage or flooding can also increase the humidity of the building, which creates a suitable environment for black mold growth.
When mold spores are drawn to your commercial building through windows or vents, and they find an area with moisture, they will propagate and start feeding on paper backing materials, drywall, carpet, ceiling tiles, and insulation.
When Do You Need Commercial Mold Remediation Services?
Many companies often operate on significant commercial properties, and knowing whether the building has been infested by mold or not can be difficult. We don't recommend waiting too long for taking professional help because if mold keeps growing in any commercial property, the owner may incur significant losses. Any commercial business, when detects mold should reach out to us as early as possible, to avoid further damage.
Presence of Water Damage
Leaking pipe, broken faucet or a leaking roof are just a few reasons for mold growth from water damage in your store. Typically, mold thrives well in moisturized areas. For large-scale businesses, mold can develop in attics, crawl spaces, wall interiors, and basements. If your office is at risk, we can always help by inspecting the building to ensure it's free from mold and suggest better preventive measures.
Presence of Discolored areas
Nearly 70% of the clients we've interacted with have confessed that it's never easy for them to detect the presence of mold in their commercial property. Well, the truth is that mold can keep growing on wall interiors and another surface for long before it's discovered. Some people find it difficult to inspect mold as they don't know where to look for it.
That's why we have professionals with rich experience in Commercial mold remediation services. Not all discolored sections on your wall indicate the presence of mold. Depending on the types of mold that infest your commercial property, you may notice colored patched on your wall, ranging from the pestle to black.
With our experience in mold remediation in Dallas, we can detect the type of mold in your property, enabling us to use the right tools to eliminate mold from your property. It takes time to note a mild discoloration on your property, so when you notice any, the chances are high that it's been there long enough.
Arising health Issues
Well, everyone within your commercial property has different mold poisoning symptoms and levels of immunity. Mold spores can pose serious health complications, especially to those with respiratory problems. When we remove mold in your business facility, we try to protect our team on-site, your customer, and the employees.
We understand how dealing with mold in your commercial setting in Dallas can be a frustrating task. The other disadvantage of not removing mold in time is that you'll expose your employees and clients to a medical problem caused by mold spores. Furthermore, you'll have to deal with significant repairs like damaged walls, furniture, and items within your company.
We are here to help you and provide you with the best Commercial mold remediation services in Dallas so that you can create a conducive work environment for all your staff. Call us any time, and we will respond instantly to your needs.
Who To Call For Mold Removal?
Call Servmold, we are always ready for any type of mold project!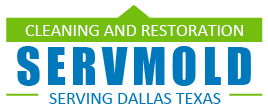 214-935-1415