Deodorization and Smoke Odor Removal
Are you suffer from a bad smell at your home or business? This can be because there is or was a mold in your property. Servmold of Dallas is all you need for an efficient mold odor removal service in Dallas/Fort Worth area. We have a team of professional mold removal technicians, who are capable to provide you with the best cleaning services. We aim at helping Dallas homes with our world-class cleaning services. We offer free estimates and tell you the cost upfront, no hidden costs involved, that's a promise!!!!
If you start smelling strange odors in your office or homes, there is a high probability that mold has been growing in your premises. Usually, when mold colonizes behind your office walls or your home carpet, they produce a musty odor. This stale odor not only has an adverse impact on health but also can damage household items.
However, there may be other factors that can contribute to the strange odor. We usually ask our customers to give us time to assess the commercial property to be sure if it's genuinely mold. Remember that mold spores are hazardous for your health, touching them can cause many problems. We strongly recommend NOT to touch mold; calling us is the best way to safeguard people using that premise.
What's Causing Mold Smell? Find The Source of The Mold
Mold can be all around your home, without you even noticing its presence. One strong evidence of mold growth is the mildew smell. If your premise smells stale all the time even if it is clean, it can be an indication of mold presence. 
Understanding Mold Odor Root Cause
Mold when thriving around the home, carry out numerous biological processes like reproduction, digestion, etc, these processes have byproducts. These byproducts produce microbial volatile organic compounds or (MVOC's) which are the major cause of musty odors in your home or commercial buildings but don't worry we are one of the best commercial mold remediation companies in North Dallas. 
Finding The Bad Smell Source
Detecting the root cause of mold odor is mold growth itself. To get rid of musty smells it is important to get rid of mold. Mostly the root cause of mold is the presence of moisture. While it is important to stop moisture leakage but that is not all.  One needs to get rid of mold too. With our experienced team and the best mold remediation tools, we'll assess your property quickly and efficiently. We are here to help, you can avail of our mold remediation and mold odor removal service to get rid of musty odor. 
Is mold smell Harmful?
In short, yes mold smell is harmful. MVOC's which are the root cause of mold's musty smell is known to cause headaches, ear and throat problems, dizziness, fatigue and nausea. We spend around 80% of our time indoors, whether at our offices or at home. These MVOC's deplete indoor air quality. Moreover, high indoor MVOC concentration can cause respiratory problems, especially in children. 
Headache, fatigue, respiratory problems are among the significant signs that you need our mold remediation and odor removal services. Additionally, People with allergies can also develop other symptoms when exposed to mold smell.  If most of your employees or house residents begin showing some of those signs, it's best to let us assess mold in your premises before the symptoms worsen.
How to Remove Mold Smell
The cause of mold smell is mold itself. To remove musty odors from your premises, it needs mold cleanup. 
Remove Mold Odor from Air Conditioners
Many a time, people complain that they have recently availed of mold removal services and their house stinks of mold odor. In such cases, most of the time problem is with mold that is been growing in their ducts. People avail of mold removal services but do not pay attention to their ducts. It is very much necessary to avail of an air duct cleaning service regularly. Your ducts most probably have mold growth, the mold spores and odor gets circulated with the air. This can worsen the problem even more. Our team is aware of such scenarios and hence we make sure we inspect your air ducts when you avail of our mold and mildew removal service.
Bathroom  Odor Mold Removal
Your bathroom might stink like mold after mold remediation. This is because of the presence of moisture in your bathrooms. You need to ensure that the bathroom is well ventilated and there is propper inlet of fresh air. Alternatively, you can keep a spray bottle filled with white vinegar and baking soda handy and spray it in your bathroom every now and then, until the foul smell is gone. 
Remove Bad Odor With Servmold of Dallas
Mold odor removal is difficult to endure the process. We understand the need to have experts on board who will ensure successful mold removal and also the elimination of musty smells, Below is a team of experts we have to handle your mold removal needs.
   

Water Damage Restoration Technician

   

Musty Odor Control Technician

   

Applied Microbial Remediation Specialist

   

Applied Structural Drying Technician

   

Upholstery & Fabric Cleaning Technician
Who To Call For Mold Removal?
Call Servmold, we are always ready for any type of mold project!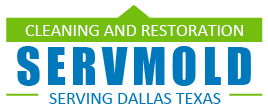 214-935-1415