Residential Mold Remediation Services
Dallas Residential Mold Remediation
Cleaning and Restoration for Your Home
If you have mold in your home or you suspect you feeling mold allergies and you want only the best residential mold removal services Dallas can offer? Servmold of Dallas is all you need.
When You Need Residential mold removal
Nearly 50% of residential properties are affected by mold problems annually.  Mold spores in your resident home can damage the property and cause health problems to your family and yourself. using home mold removal services right whenever you notice signs and/or symptoms of mold minimizes the risk associated with mold spores.
If a mold problem is not solved quickly, it can lead to respiratory issues and allergic reactions.
When removing mold from homes, it is important to take necessary precautions to ensure the safety of your beloved ones. We have a team of experienced professionals on board, which will help eradicate mold problems without risking any life in your home. 
Our Home Mold Removal Process
We understand it can be frustrating to deal with mold problems in your home. The stains they leave on your wall, the foul odor you'll smell every time you get into a mold-infested room is too much load to bear. Servmold of Dallas is always there at your rescue- an affordable mold removal company with the knowledge and experience to remove mold from your home.
We want our customers to understand the whole process of mold remediation, so they know what to expect from us. Below are the outlines of our mold removal process.
Mold Inspection in Your Residence
As much as the mold problem is a significant concern in Dallas, many clients find it difficult to detect if that foul smell in your room is a sign of mold. Sometimes, it may be the stain on your wall or under the sink.
Our mold inspection technician visits your home and conducts a visual inspection.
During this phase, we will look at various factors that may have caused the mold problem. We'll also look at the level of damage and advise you accordingly.
Build an Estimate
After we get the protocols, set by the environment company, we create a realistic estimate. We make our estimates as detailed as possible so you can get every information beforehand.
Explanation of the work process
What are we going to do during the removal process? What materials will we require from you? How long will we carry out the mold removal process? Don't worry, we want to ensure that you know what we are doing in your home. Servmold of Dallas technician will explain everything to you, including the mold removal and prevention of mold growth in your home.
Household Mold Remediation Completion
We complete each mold removal project professionally and promptly, we will make sure we will leave your home clean and looking and feeling safe like before.
Removing Mold from House Interior the Right Way
When mold spores get into your home, they look for areas with favorable conditions. Areas with moisture are more vulnerable. You can find mold growth behind a wall, under the sink, or in any region with high moisture content.
Furthermore, they must have a continuous moisture source. That's why you notice stains on your wall, wooden floor, etc.
Now, considering all these factors, you'll understand why hiring a licensed home mold removal company is essential. Well, there are specific guidelines that a professional company should follow during the black mold removal process. Our company is also insured and has the knowledge and experience of handling any mold remediation project in your home.
We guarantee the safety of people, pets, and resources within your house. Servmold of Dallas has a skilled workforce to ensure successful mold remediation.
Who To Call For Mold Removal?
Call Servmold, we are always ready for any type of mold project!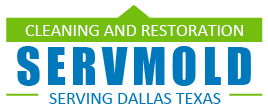 214-935-1415